Retiree's News
---
Author: Harry Burton
E-mail: notrubmot@goldrush.com
Date: Fri, 1 Dec 2006

I guess the saying "what goes around, comes around" holds true when reading your comments above. You, the firefighters, have an advantage at this point in that you have been forewarned. It's now up to you folks to do your home work.

I imagine that with all the high tech computer systems that are in place it might be reasonably simple to access response time in both district 25 and 27. If this is not the case then maybe it would be to your advantage to have someone obtain these times on a regular basis for the firefighters records so they will be available when needed.

Your Fire Chief has a problem, as you well know. The City Manager and City Council want him to cut costs and we both know what that means. Less personnel.

When we visited this problem years ago, (Chief Koron's administration) it was the same two stations that were talked about. The problem was discussed at length by the staff and we came to one logical conclusion when all the nuances were considered. It is a lot easier to cover an area in the center of the city than it is to cover an area near the edge. It's just like fighting the "Big One", surround and drown.

Don't close 27. Close 25. Now this is when we got creative. We didn't close the station we just eliminated the engine. E-25 was replaced with T-21. The idea was to make it a BLS/Truck company, with a reduced response area for BLS calls. To reduce the BLS response area requires a survey on response times to various locations within the district.

This gave the City Administration a way to solve their problem while maintaining BLS service to the citizens in the affected area.

Just thought I would give you an update on the past.

The bottom line, once again, it's up to the City Council to set the safety response standards for the community. All the firefighters can really do is point out the possible negative results of their actions.

Recent history points out how one emergency can change the best laid plans. The fire merger of Foster City FD and San Mateo FD was all but approved when a fire occurred in Foster City which had a few problems. The merger was deep sixed a short time later.

With this much lead time you folks can accumulate "real facts" based on "real incidents" rather that playing the "what if" game, which is always a looser.

I have a copy of a fire report around here somewhere which might give you an idea of response times and how traffic can effect a response to a major incident. I'll e-mail it to you along with any other info.

Anyhow, thanks for sharing the info. and I am sure all will end well.

Merry Christmas and Happy New Year to you and your family,

Harry
---
Author: Dave Meghinasso
E-mail: fyr41@pacbell.net
Date: Thu, 21 Dec 2006

Hi Jeff
I don't know if my note of thanks made it through the contact point of smffa web site. I just wanted to say thanks to the association membership for the badges for the crypt of my dad,Capt Jay Meghinasso.Next to his family, the dept was one of the most important organizations in his life. He would have been proud to remembered in such a fashion.. On behalf of the family,-THANKS!

Dave Meghinasso
---
Author: Harry Burton
E-mail: notrubmot@goldrush.com
Date: Sun, 18 Sep 2005

This information was sent to me by Santa Rosa Fire Fighters Local President Tim Doherty.
---------------------------------
Hello Friends,

VOTE NO ON PROP 75...

Here is the latest attempt by our Governor to screw-up PERS. Please pass this on to any other retirees you know and/or friends. If they get this on the ballot, and it passes, it jepordizes everyones pension, yours and mine included.

Also, let them know that Prop. 75 ("The Payroll Protection Act") which would severely limit the ability of Firefighters Unions to engage in political action, deserves a No vote. If this passes, it will make it a whole lot easier for them to mess with our retirement in future elections. (Which is exactly what they are counting on.)

IF YOU ARE NOT REGESTERED TO VOTE PLEASE TAKE THE TIME TO REGESTER FOR THIS UPCOMING ELECTION. IF YOU CAST A BALLOT FOR NOTHING ELSE MAKE SURE YOU "VOTE NO ON PROP. 75". REMEMBER IT'S YOUR RETIREMENT SYSTEM NOT MULTI-MILLIONARE ACTOR SCHWARZENEGGER's.

REMEMBER THIS IS NOT A UNION ISSUE IT IS AN ACTIVE AND RETIRED PUBLIC EMPLOYEE ISSUE.

DON'T LET ARNOLD SCREW UP YOUR FUTURE.
---
Author: Cory Trammell
E-mail: ctrammel@tampabay.rr.com
Date: Sun, 28 Aug 2005

Hello Friends,

Just wanted to let everyone know we are fine out here. Hurricane Katrina missed us by a long shot. My father told me he had heard on the news out there that it was going or had passed right through us. I don't know how they can get it so wrong. I think they are just picking on my dad. : )

Anyway, so far - so good. However, we are just getting into the heart of hurricane season and they still predict about nine more hurricanes in the next 6 weeks! Could be a rough ride.

I expect to be heading to the Gulf Coast of New Orleans / Mississippi / Alabama to assist in damage assessment for the insurance adjustors. I will keep you posted and send photos if I can.

Miss you all.

Cory Trammell
---
Author: Rich Bremer
E-mail: rbremer@pacbell.net
Date: Tue, Mar 29, 2005

I really intended to line everyone up for a group shot, but we got carried away. Here's my only shot of the whole room.

Rich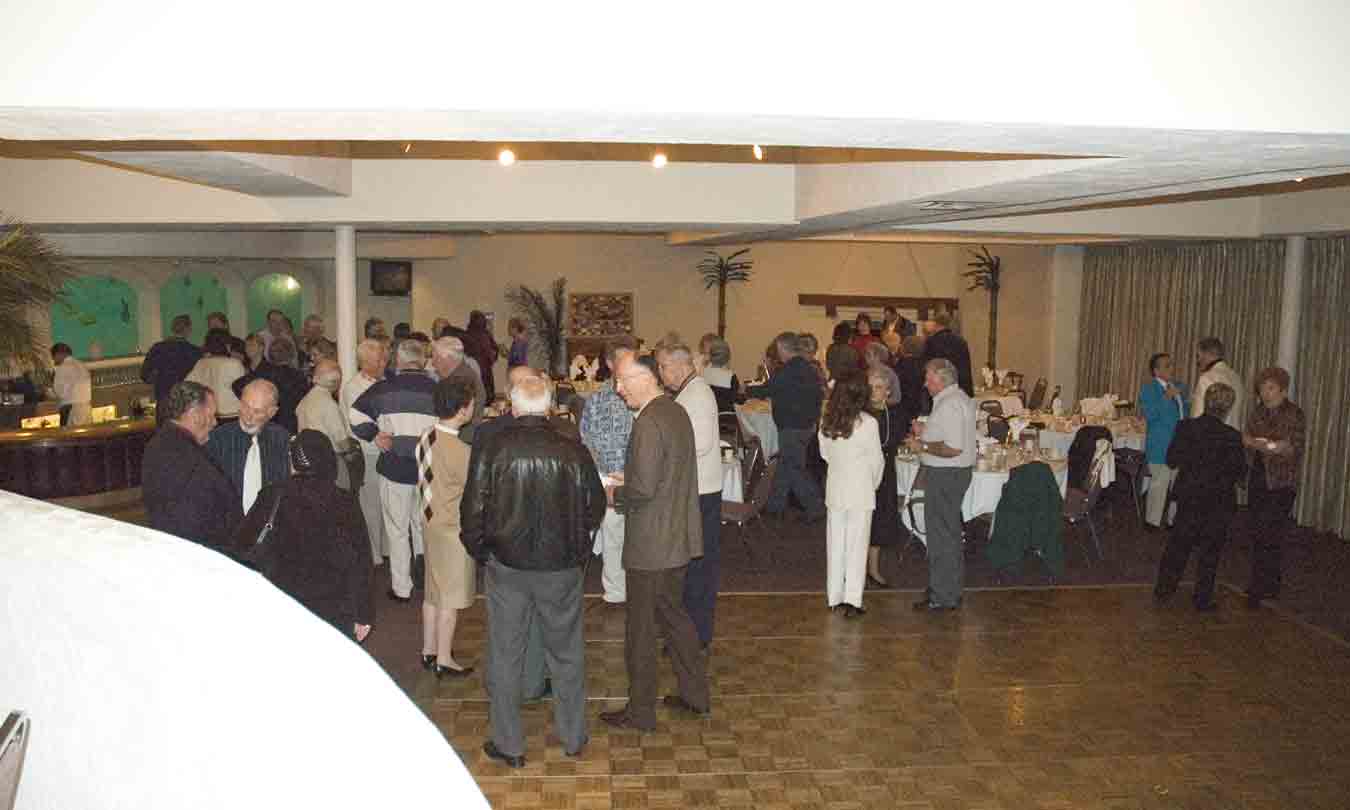 ---
Author: Joe Latham
E-mail: JoJoe6063@comcast.net
Date: Thu, 17 Mar 2005

Gang,
Ten days since our last dinner, and just wanted to thank you all, that took the time, traveled the distances, and spent the money to get together. It was great to see you all, in sickness and health, not younger as we would like to be, and remember each other! (I was the guy that had yellow hair, and white teeth, once upon a time!) We have spread across the nation, Curt and Julie Shaffley from Wa. state, and Cory Trammel down in Florida, while Harry Burton traverses the continent on wheels. Thanks, San Mateo, for giving us these opportunities in the "after life"!
Paul Olkowski, and his wife, Sylvia, are newlyweds, and have opened a restaurant in Washington State. We wish them all the happiness, and good fortune in life and business, and need their business address for us that may travel north. Congratulations! (Paul is our recently retired Fire Marshall and he and Sylvia usually attend our annual yak session, but it is understandable why they missed this year!) Finally it was great meeting all of you at the F.D. and a pleasure seeing as many of you each year, and during the year, as opportunity allow!.
Ole Joe, for the Committee
---
Author: Joseph Quadt
E-mail: jakeyb23@pacbell.net
Date: Wed, 17 Nov 2004

Great to hear that the "ole-timers" get together. There are about 8 of us retirees from HFD, that meet once a month (if we remember) for breakfast down at Ninni's, and it's great exchanging old "war-stories'.

Retirement is great, finally "sinking in that others that go to fires, not you JJQ". I was asked to be on the Union City/Newark assessment lab in early October and that was quite a day. Speaking of Union City, I see and hear John Healy is doing well in your department, as well as Brian Kelly.

I see quite a bit of the ex-Hillsborough people (Central Co. Fire) and from what they indicate, things are going well. Early this year worked on the "Committee To Save The Fire Services" here in Millbrae, and can happily state we won that issue and SAVED A FEW JOBS..........."we won that assessment 72% "for the issue, and 28% against". We now have a tax commitment of 1.125 million,. so that should help "Dennis and gang" for a while.

Other than that, still on the Bay Area Red Cross Board of Directors, "miss the calls', and still shoot at the Los Altos range.

My best to you and the department, stay safe, and NEVER FORGET, WE ARE ALL, BASICALLY FIREFIGHTERS, some with more responsibilities then others, so when we commit that Engine company to any and all alarms, FIRST AND FOREMOST, that "crew is our responsibility".

JJQ
---
Author: Rich Bremer
E-mail: rbremer@pacbell.net
Date: Mon, 15 Nov 2004

Hi Jeff, Thanks again for what you and your son are doing here. Attached is the photo of the grass fire at Coyote point. The view is from my drive way.
Rich Bremer

---
Author: Wayne, Harry and Joe
E-mail: JoJoe6063@comcast.net
Date: Fri, 5 Nov 2004

Hello Folks,
Just wanted to let you know we have reserved, once again, the"Pool Room" at the El Rancho Inn, Millbrae, Ca. for our eleventh annual SMFD Retiree's banquet.
Mark you 2005 Calendar for Saturday Evening, MARCH 5, 2005, four months hence! By then, the days will be getting longer and warmer again!

Hope your are all well, happy and prospering, and we look forward to seeing you all then. In the mean time have the Happiest of Holidays!

The ole committee, Wayne, Harry and Joe
---
Author: Jerry Chevalier
E-mail: chevalier5@earthlink.net
Date: Sun, 3 Oct 2004

This is what you have to look forward to when you retire... Plenty of time to spend with family... My son is going to have a baby girl this October, and I am excited about having another grandchild to spend time with...

My best to you.... Jerry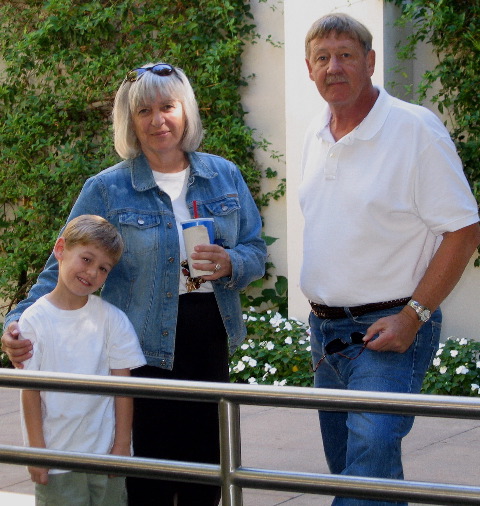 ---
Author: Mike McCann
E-mail: Mitsym@AOL.com
Date: Wed, 15 Sep 2004

Once again I thank you for organizing the Seagrave E-121 golf tournament this last Monday, Sep. 13th., at Poplar Creek Golf Course.

I know its a lot of work but hopefully the golf tournament was able to raise some money to help with the engine restoration.

It's always nice for me to see some of the active members of the department along with a few of the retirees. I only wish your tournament could have more participation by both active and retired members but then I realize everyone has committments and prior plans.

I know we golf foursome which included Joe Cutietta, Marty mcCue and Bill Sisack all had a good time. We only wish it was a litter more windy! Of course yesterday there wasn't a breath of air and last week was warm almost everyday.

Thank you again for all your time and efforts in organizing the tournament where we can not only have fun playing golf, see some old friends but feel good that the money is going to such a worthwhile cause.

Mike McCann
---
Author: Chuck Madderom
E-mail: maddogla@juno.com
Date: Mon, 13 Sep 2004

My name is Chuck Madderom. I am the contributing editor for the Los Angeles Metro-Area column in Fire Appartus Journal.I have also pulished two photo history books for Iconografix, one is about LAFD apparatus the other Crown Firecoach. In researching my new project, a photo history of Van Pelt Fire Apparatus, I discovered San Mateo had a 1957 Seagrave with a body built by Van Pelt in 1958. The Seagrave was serial number K-2915 a 900-B model. It had a 1000 GPM Seagrave pump and their "J" V-12 engine. The Van Pelt serial number was 5-1375-8. I have two photogarphs of the appartus, one running as Engine 6. Because it is a one of a kind rig I will use one of the pictures I have in the Van Pelt book. What I need help with is information that was not in the Van Pelt factory records. Their records did not show the water tank size. I'm also am curious as the why after buying Seagrave pumpers with canopy cabs this one was a two door sedan? If you can help me with this or direct me to someone can I would appreciate it.

Thank you.
Chuck Madderom
21010 Anza Ae # 31
Torrance, CA 90503
310-371-1511
---
Author: Mark Navratil
E-mail: PI4Fire@aol.com
Date: Mon, 26 Jul 2004

I just got out of the hospital from knee surgery and would like to extend a thank you to all those involved with the retirement dinner.
Best Regards,
Mark Navratil

---
Author:Rich Bremer
E-mail: rbremer@pacbell.net
Date: Fri, July 9, 2004

After looking at your web site today I was inspired to send the image I told you about. I'm handing Bob Brodie his retirement plaque. We visited Bob and Debbie on our motor home trip to Washington last year. Keep up the good work and Thanks.

Rich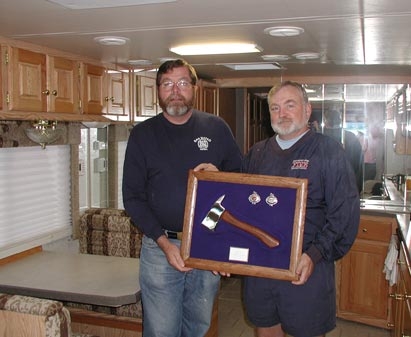 ---
Author: Paul Olkowski
E-mai: Paulolkowski@aol.com
Date: Mon, June 7, 2004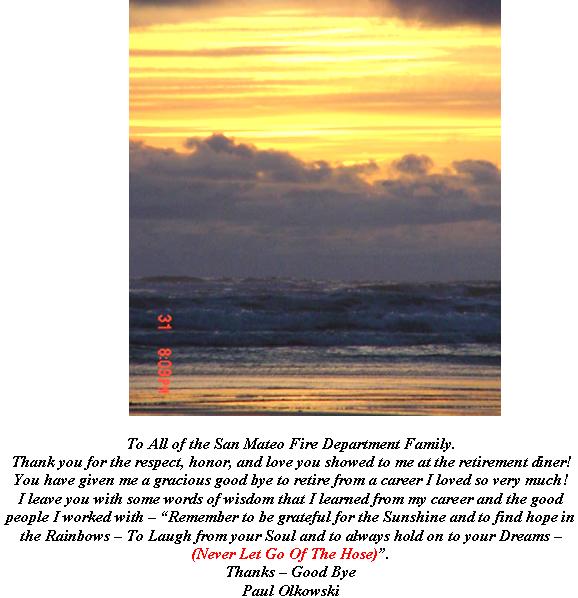 ---
Author:Will Laurie
E-mail: ill320@aol.com
Date: Fri, January 30, 2004

Sandpiper Villas is looking for Condo manager. 1 Bedroom cond and Utilities plus monthly check. Looking for Retired person with light maintenance capabilities. Phone 650-344-3367. Maybe you could post this for your retiree who is interested. Thanks.
---
Author: David M Swall
E-mail: Sherryo1200@cs.com
Date: Mon, January 19, 2004

Look what I found snooping around the wed!!!! Share it with those who would remember.

1958 Seagrave

1958 Seagrave fire truck Model 900-B-1000 with a 306hp V-12 engine and a manual 5-speed transmission. Mileage: 26,703. Serial # K 2915. MFG Date 12-4-57. Body and interior rough with some areas of surface rust but NO RUST THROUGH. are included.

All documentation included. Original invoice, operator's manual, maintenance manual, etc.

This unit was originally purchased by the San Mateo, California FD. About 20 years ago it came to the Virginia City, Nevada area as a working unit. It was eventually replaced and given to the Volunteers. To the best of my knowledge it was last run about 15 years ago. Over the last 15 years some of the insignia, gear, etc. have disappeared so what you see in the photos is basically what you get. Even still, I'm sure that even parting it out would net you more than the $500.00 we are asking.

Shipping at buyer's expense. We can assist in loading if necessary. This truck is being sold "as is, where is".

Virginia Highlands Volunteer Fire Department
Virginia City, Nevada
Contact Jim @ 775-847-9495 for more details.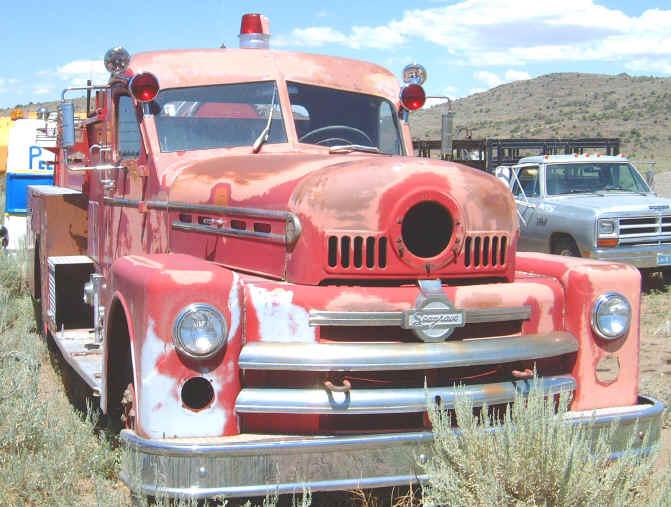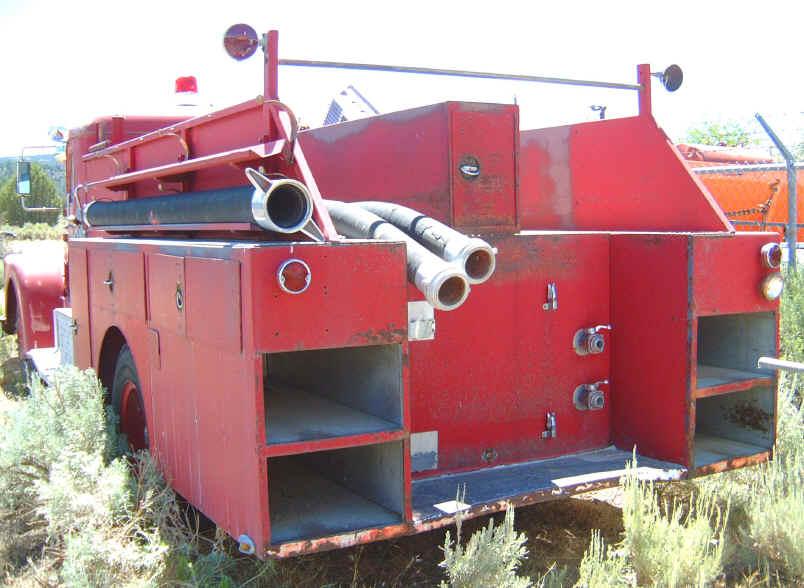 ---
Author: Davie Meghinasso
E-mail: fyr41@pacbell.net
Date: Thu, 16 Oct 2003

PLEASE ACCEPT MY GRATITUDE FOR THE AMOUNT OF WORK THAT WENT INTO THE MEMORIAL PAGE FOR MY DAD, JAY MEGHINASSO. I KNOW THAT HE WOULD BE PROUD TO BE REMEMBERED IN SUCH A WAY. HIS FAMILY AND THE FIRE DEPT WERE THE BIGGEST PARTS OF HIS LIFE; I ONLY WISH THAT HE COULD HAVE BEEN AROUND A LOT LONGER FOR EACH OF US TO ENJOY HIS COMPANY.

DAVE
---
Author: Fay Munier
E-mail: faynron@earthlink.net
Date: Sat, 4 Oct 2003

Please send information to this address.
Thanks.
Ron Munier
---
Author: Joe Cutietta
E-mail: hooknladder78@webtv.net
Date: Thu, 2 Oct 2003

Great web site. Thanks to all for making this available. Keeps us retiree's up to date on what's going on. Coot
---
Author: Davie Meghinasso
E-mail: fyr41@pacbell.net
Date: Thu, 2 Oct 2003

JEFF AND CHRIS ,THANK YOU FOR PUTTING THE PICTURE AND UPDATE ON THE SITE..BY THE WAY, DO YOU THINK THAT THE ANIMAL RIGHTS GROUPS AND THE SIERRA CLUB ARE GOING TO PICKET MY HOUSE? DAVE M.
---
Author: Davie Meghinasso
E-mail: fyr41@pacbell.net
Date: Tues, 30 Sep 2003

Davie Meghinasso pictured with his trophy after a black powder muzzle loader Elk hunt in northern Colorado. Dave and his wife Debbie also trekked through the Yukon and Northwest Territories en route to the Artic Circle. Retirement can be great as long as you donít run out of money and health. Best wishers to the guys and gals of the Peninsulaís best Fire Dept.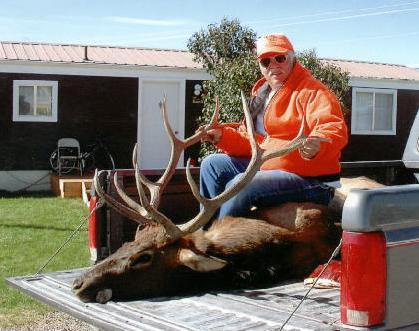 ---
Author: Joe Latham
E-mail: JoJoe6063@comcast.net
Date: Sat, 20 Sep 2003

It was absolutely great seeing you all last Monday at Poplar Creek. I will always miss the camaraderie we shared at the F.D.. First Jeff, what a great program you put together for the participants. Lunch, prizes, gifts and of course the great game of shotgun golf at the new course! Had a ball seeing Joe Cuttietta, Mike McCann, Galvin, Robert Davis, Bob Romanoff, Bobbie Lee Galbreath, (what a combo we made!?) The day was a blast, especially with the moderate temperatures. Joe, tell Betty that Martinelli's has been gutted with just the four walls remaining. A major rehabilitation of that restaurant for sure. Not sure whether Tom Bocci, the most recent owner is responsible or if the El Rancho is somehow involved. Maybe we should do this more often because the skills of the game will never grace this hacker!

Best to "you all". The Pink One

p.s., the only game I am more skilled at beside golf, is when we go to Reno and play "22"!
---
Author: Carol Todd
E-mail: dctodd@ncws.com
Date: Wed, 17 Sep 2003

Thanks Jeff and son, Chris for this informational website. I'm going to check it more frequently for the "latest."
---
Author: Mike McCann
E-mail: Mitsym@aol.com
Date: Tues, 16 Sep 2003

Just wanted to pass on my thanks and the thanks of Joe Cutietta, Marty McCue and Bill Sisack for your efforts in planning and orgainizing yesterday's Engine Restoration Golf Tournament at Poplar Creek Golf Course.

All of enjoyed the lunch, golf and prizes. The best part for me was seeing current members and a few retired members of the San Mateo Fire Department. Now that I am a member of the "retired group", this is one of the limited opportunities I have to see some of my favorite people and also have the opportunity to talk to these individuals.

Thanks again for your efforts in making this a very enjoyable day.
---
Author: Joe Latham
E-mail: JoJoe6063@comcast.net
Date: Mon, 28 Jul 2003

This message is for all of us blessed with Internet communications capacity! Captain Jeff Barile and his son, Christopher have established for us, a new website, "www.smffa.net". Much information is contained on this site, even a SMFD history section, current status of the fire department activities and a retiree's corner also. You are encouraged to check it out a.s.a.p.! (Jeff is the force behind our one and only SMFD History book! ) Again, he has done a great job of keeping us, the retirees' current. Retirement is a busy time, especially this year, time has flown by since March, and I know some of you are busy as heck also. We hope good health and happiness persist for you-all. San Mateo County active firefighters have taken some difficult hits this year. The former Foster City Training Ch. and current Chief of Newark expired from cancer, in his late forties, as well as a Redwood City captain loosing his battle with cancer also. Last week a Foster City captain was killed near Sacramento when his vehicle turned over, taking his life, but sparing his wife and small children. Lessons learned, get your checkup and drive safe! Our next retirement dinner is scheduled for February 28, 2004, at the El Rancho Inn, Millbrea, Ca.. Looking forward to seeing you guys, as always. Finally, I believe that Jeff with post, or you can post information on this new website, so lets give it a spin and make it work for us and the fire department! Once again - www.smffa.net - (San Mateo Fire Fighters Association)[The gang that put $500.00 big ones in our kitty last year via Treasurer Bob Bottari] ! You all take care of yourselves hope to see some of you over the summer, many of you at the next banquet! Joe Latham, SMFD, tired
---
Author: Cory Trammell
E-mail: ctrammel@tampabay.rr.com
Date: Mon, 28 Jul 2003

Way to go! I am proud of you Jeff. This is a great improvement and it makes our Association look more professional. Thanks again for all your hard work. Tell all the boys I am doing fine and I said Hello. Cory