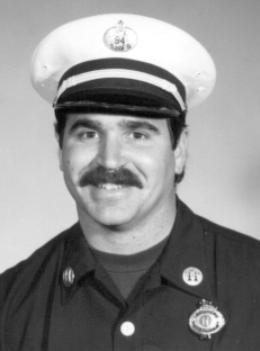 Mike Olsson was a devoted husband and loving father. A father and person that could take the weight of the world off your shoulders by putting his arms around them. Mike Olsson was a devoted son and dedicated firefighter. Mike's character brought much to the lives of the people around him. He enriched the people in his life and in the fire service. Mike's passing will place a huge void in all of the lives he touched. Mike performed all the different roles in his life with dedications, a great heart, and with an incredible amount of courage. His courage made him so successful in accomplishing his goals and delivering his love of everything for which he cared.
Mike is survived by his wife, Melody, and two daughters, Lauren, 6, and Chanel, 4; Mother, Gloria Mayer of Reno, Nevada; Father, Conrad Olsson of Manteca, California; Siblings; John of Chico, California, Stephen and Kerri of Nevada; and Pam Ruiz of Manteca, California.
Mike was 45 years old. He served the San Mateo Fire Department for 21 years with the promotion to Captain in 1987. In addition, Mike served as the Department's Local 2400 representative along with serving on numerous committees and task forces during his career.
He will be deeply missed!

Captain Michael C. Olsson
1956-2001
---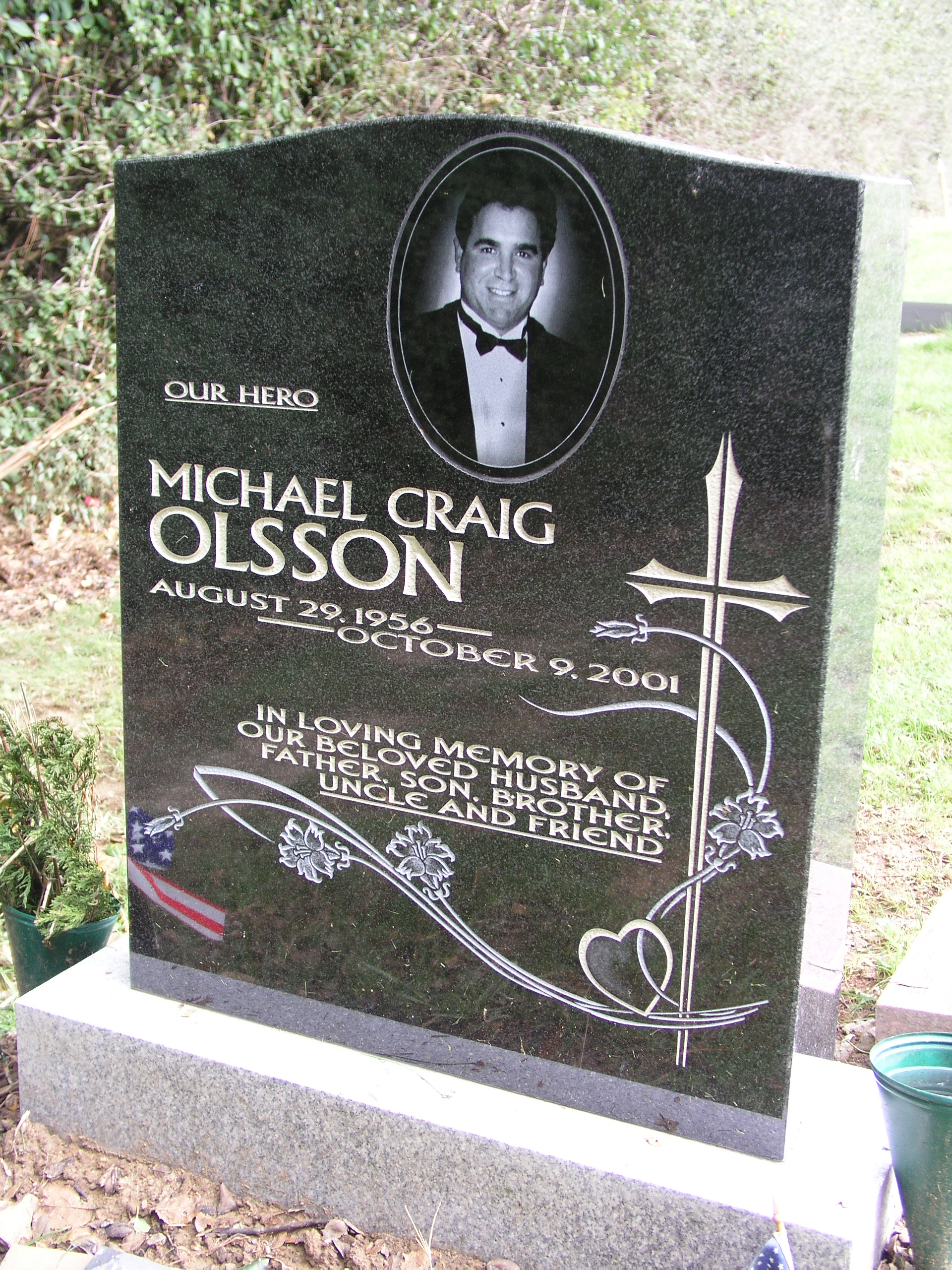 For many of us the loss of Mike Olsson has been a painful milestone in our careers.

Yesterday, while the crew from Station #21 was shopping, the wife of the St. John's Cemetery caretaker made it a special point to let the crew know that a headstone has finally been delivered. I believe she knew the feelings of unfinished business many of us have felt. This is definitely a credit to her sensitivity to our professional brotherhood.

John Warren
2/21/2004
---
Mike,

With the utmost respect to You, Melody, Lauren and Chanel and all your family and knowing how much of a loving, caring, devoted Father you have been, I'm writing to you and your family to tell you how much of an asset you have been to the Fire Department and all those involved.

Mike, I cannot even begin to tell you how much we appreciate working with you and all you have done your entire career to improve the conditions of our fire department. You have been there day in and day out to ensure both administratively and physically the training, the safety, and the efficiency of our people. You would see to it that we were able to do things like go to classes on duty, and then you would be intimately involved in the training itself. As a leader you served on negotiations. As a leader you served in participatory management. As a leader you were a Truckman. As a leader, you were a Hoseman on an Engine Company. With the support of your peers of the entire organization of people you worked with, you were a fine company officer. On that fine line between service and power you were a dedicated serviceman. You served the community in its entirety. You served the membership in its entirety. You've left behind an example of a model fireman. Mike, you have been our number one player. We hope your spirit remains with us and it will teach us a powerful lesson on solidarity. You put way more into the barrel than you took out . If everyone in this organization behaved like that, it would be a blessing. If half of us could fill 10 percent of your shoes it would be a blessing. You have contributed to the wellness of our families at home and in the department we work for. We are all benefiting from your actions whether we are fighting a fire or safely sitting in our homes. Because you saw to it and that we were provided with the tools and equipment to perform our job safely and efficiently, and that we were compensated fairly.

Michael C. Olsson, a solid company officer and a damn good fireman. We've lost one of our Best Friends, a leader, a warrior, someone we are all so proud to have had the honor of working with.

Bob Bottari
10/15/2001
---
Brother and Sister San Mateo Firefighters,
10/10/2003

Two years ago this week, as the nation reeled from the terrorist attacks on New York City and the Pentagon, the members of the San Mateo Fire Department were suffering the loss of Fire Captain Mike Olsson. With "hearts swollen with sadness" our brothers and sisters were preparing to lay one of our own to rest. We worked together as we never have before and I know that Mike would have been proud of our celebration of his life.

Mike was a dedicated, compassionate member of this organization. He was a leader in participative management and labor/management relations. Mike believed in the fire service and considered himself a member of the family of firefighters of which we all belong. Mike loved this profession. I know this because I had occasion to have many long and sometimes heated discussions with him about labor issues, training issues, and department issues. I know this because Mike virtually sparkled with caring for his fire department family members and for the citizens that he served.

I miss Mike Olsson. I miss his laughter, leadership, and inspiration. I miss the way it seemed that anything was possible around him. Mostly I miss the way he cared for those around him. Mike was a constant source of entertainment for us. The "stealth" dumpster incident when he wrecked the new Pierce. His voracious appetite. The cup-smashing, finger-pointing, red-faced arguing, belly-laughing friend of mine who would give you the shirt off his back. The call for "station courtesy" when he lost the dice but got a call and expected the dishes to be done when he returned. (They never were!) His passion for: all things outdoors, motorcycles, and old firemen.

Please try to spend a moment in the next few days to recall your Mike memories. If you have time, try to visit his gravesite. I know that I will.

Fraternally,
Michael M. Quenneville