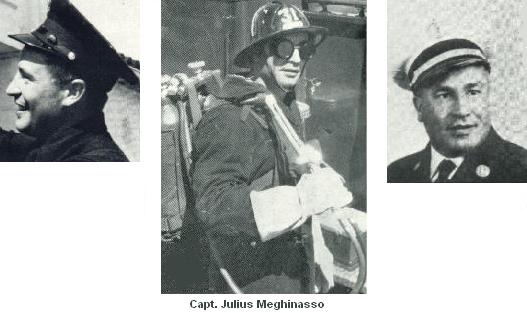 Memorial Dedication for Fallen Fire Fighter


On August 30, 2000 at 11:00 a.m. at Fire Station 24, 319 South Humboldt Street, the Fire fighters, City Officials including the City Council and the Mayor Jan Epstein and Citizens of San Mateo honored the memory of Fire Captain Julius P. (Jay) Meghinasso by placing a bronze plaque of his likeness on the station. Captain Meghinasso was the first San Mateo Fire fighter to die in the line of duty. On May 24, 1954 at 12:18 a.m., old Engine 4 responded to a structure fire of a house under construction at 1616 South Norfolk Street. First on scene, the forty-two year-old Captain Meghinasso and his crew began to fight the fire. Unable to enter the front door due to the massive amount of fire, he went to the side of the building to find another entrance. Returning back to the front of the house, he collapsed in the arms of San Mateo Police Officer John Pawson. The Firefighters gave him oxygen and he was transported to Mills Hospital where he was pronounced dead. At 3:00 a.m. Fire Chief Hugh Morris and a priest arrived at the Meghinasso's home at 809 South Humboldt Street just two blocks down from his firehouse. In an interview years later Captain Meghinasso's widow, Angelina, reflected that she saw them from her bedroom window and she would not open the door —she wanted "to shut them out." She knew that her Jay was gone. Captain Meghinasso also left behind his two children, 12 year-old David and 8 year-old Julie, his parents Mr. and Mrs. Paolo Meghinasso, his brother Pete Meghinasso and his sister Mrs. Emila Battini all of San Mateo.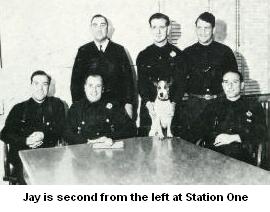 "Jay ate drank slept wanting to be a fireman," states the now Angelina Garre (she married George Garre in 1958). "In fact he took the fireman's test on April 18, 1942 the same day his son David was born at Mills Hospital." As a high school athlete, Jay played football and baseball. He was the P.A.L. sprint champion for the 50 and 100 yards. After high school, he played on the semi-profession baseball team, the San Mateo Blues. He loved to swim and once he saved a friend who tired swimming in the San Francisco Bay. On May 16, 1942 he joined the San Mateo Fire Department and "he could not get enough of it" according to Angelina. Retired Chief George Cocconi recalls Capt. Meghinasso as being "a nice, quiet, and loyal man." Firefighter Jay Meghinasso became a Fire Captain on October 1, 1949. The San Mateo Firefighters of the 1940's worked four days straight then had three days off. During their off-days, they could not leave San Mateo until they checked with the dispatch center. Often they were refused leave. Jay like the Firefighters of his day had a fire alarm bell in his house. His bell was located under David's crib remembers Angelina. If the bell rang, he would count the bells and respond to the location per the code of the bells. The love of the fire service was not lost on David. He became a Firefighter after four years with the US Navy. He worked for Woodside and Los Altos Fire Departments before joining the San Mateo Fire Department in January of 1968. He retired in 2000 with almost 32 years of service with San Mateo. He remembers riding his bike up to old Station 2 on East Bellevue to deliver lunch for his dad. Often he would follow Engine 2 on the way to a fire. Later when his dad moved to Station 4 on South Humboldt Street, he had a short walk to visit him. The fire that resulted in the death of his father was "definitely arson" according to the police and fire investigators. It still remains a mystery on who or why started this fire that emotionally rocked the Meghinasso family and the citizens of San Mateo.
---
Current Investigation